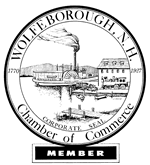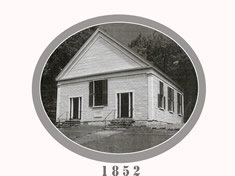 Cotton Mountain Church
The historic Cotton Mountain Church is located on Stoneham Road in Northeast Wolfeboro and is a non-denominational church. All are welcome! Church services are held four times a year: Easter Sunrise Service, Old Home Sunday on the third Sunday of August, Vesper Services in October, and Christmas services usually on the fourth Sunday of December.
The church is maintained by membership dues, rental of the church for weddings, baptisms, and memorial services; bequeaths and donations. Membership dues are $7, for a single person, and $10 for a family. You may request a membership form by writing to the Cotton Mountain Church, P.O. Box 1834, Wolfeboro, N.H. 03894. If you would like to learn more about the church or would like to rent the church, please call Sandra Wentworth, the President of the church at (603) 569-8269.
Excerpt of a story written by Gertrude Beacham Hamm, undated
A large tract of land with indeterminate boundaries, including much more than the mountain and the valley was known as Cottonboro--the church was called Cottonboro Meetinghouse, the school was called the Conttonboro School. During the first century of the history of this church, there were few if any families among its membership that did not boast some Cotton ancestry or relationship. Several of its pastors have been members of the Cotton family. The first meeting house was somewhat lower down on the hill, toward Stoneham, and was accompanied by a long shed divided into stalls and open toward the south, for the protection of horses while their Masters worshipped. The congregations were large in the early days when each young couple steadily added children to its "pewful" until some families required two pews. Not only the "horse-shed" but in inclement weather the entire open space around the church was filled with horses, single and in pairs, attached to buggies, top-buggies, and democrat wagons.
Sometimes the Methodist Episcopal Congregation worshipped there in the forenoon, enter-through the left hand door and its vestibule or "entry" as it was called. In the afternoon a Baptist congregation unlocked the right hand door and went in to worship. The friendliest feeling existed between the two congregations, separate doors being only a matter of convenience, since each door had only one key.